Friday marked 2 months since we got married! And guess how we celebrated... Surgery! Woot woot. That was actually on Thursday but it basically carried over to Friday and will be taking over our whole weekend haha. But lets talk about the good things that happened before we get into surgery.
Last Friday was Michael's birthday and to celebrate, I surprised him on Thursday night by taking him to Olive Garden and then to a Vocal Point concert that was in Salt Lake. It was so fun, we got to dress up and kind of get away from life for a night and spend it together. Vocal Point is really amazing, here are some videos if you have never seen them before.
Anyways, it was a fun night. On his actual birthday we were supposed to go to a ward party but since our building flooded it got cancelled. So instead we stayed home and I made him fajitas.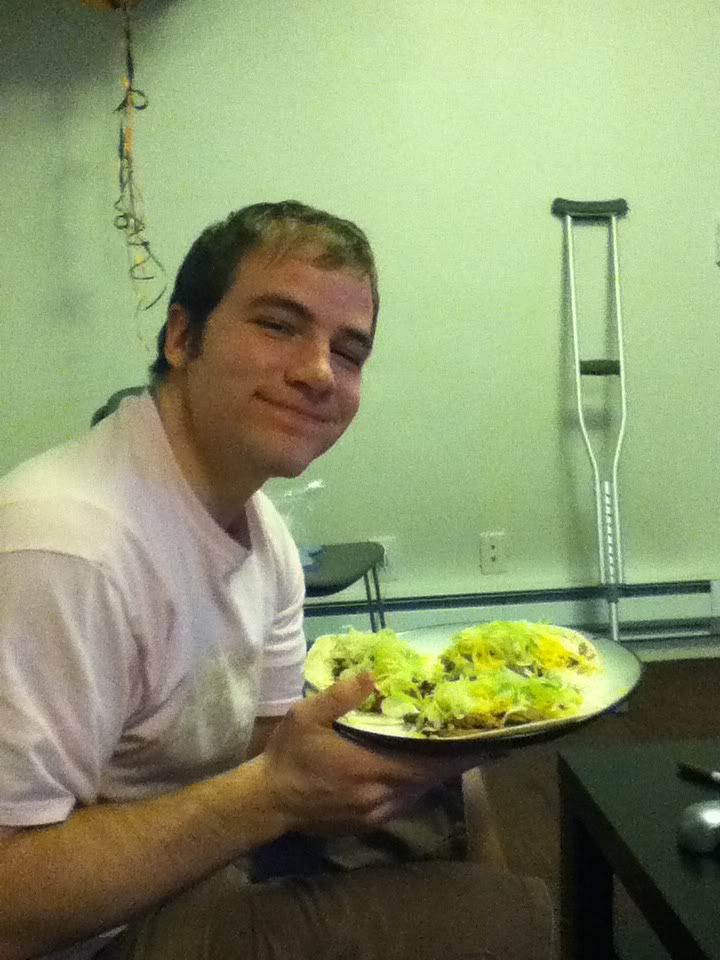 And then the next night we had some friends over to have ice cream sundaes. They were quite delicious and it was fun to see some of our friends that we hadn't seen too much of.
Monday was Valentines Day. I wanted to make Michael something delicious that we don't get to eat much but I didn't have everything I needed for my meal so I had to go shopping. How romantic.. usually we love to go shopping together but because of Michael's knee he didn't want to go to Costco so I went by myself. But I bought some delicious looking steak and when I got home I made steak, potatoes and salad. Then we started a new tradition of doing fondue on Valentine's day. Mmmmm.
hahahaha I apologize for the creepy face..
The strawberries were the best
One more thing... We received a letter in the mail on Wednesday that Michael got into the Mechanical Engineering program!! We are so excited and I am so proud of him.
Ok, I guess now we'll get to the fun part of our week. On Wednesday night we got a call about his surgery and they told us that he needed to be there at noon. We were pretty excited about that because we didn't want his surgery to be super late at night so that we could get him home earlier. On Thursday morning they called and said they were running a little behind so instead of having us come sit for a few hours they wanted us to come at 1. So we got there at 1 and filled out all the paperwork. They told us his surgery was at 3 so we were a little wary that we had to wait an hour and a half but then we realized it wouldn't be so bad since he had to get all prepped and everything and it should go pretty quickly. He went back at about 2 to get ready. About 15 minutes later his uncle Steve showed up to see how everything was going and to help us get him home when he was done and then about 10 minutes later we both got to go back and sit with him until he went in to surgery. Just before 3, Steve left and we expected Michael to have to go in to surgery.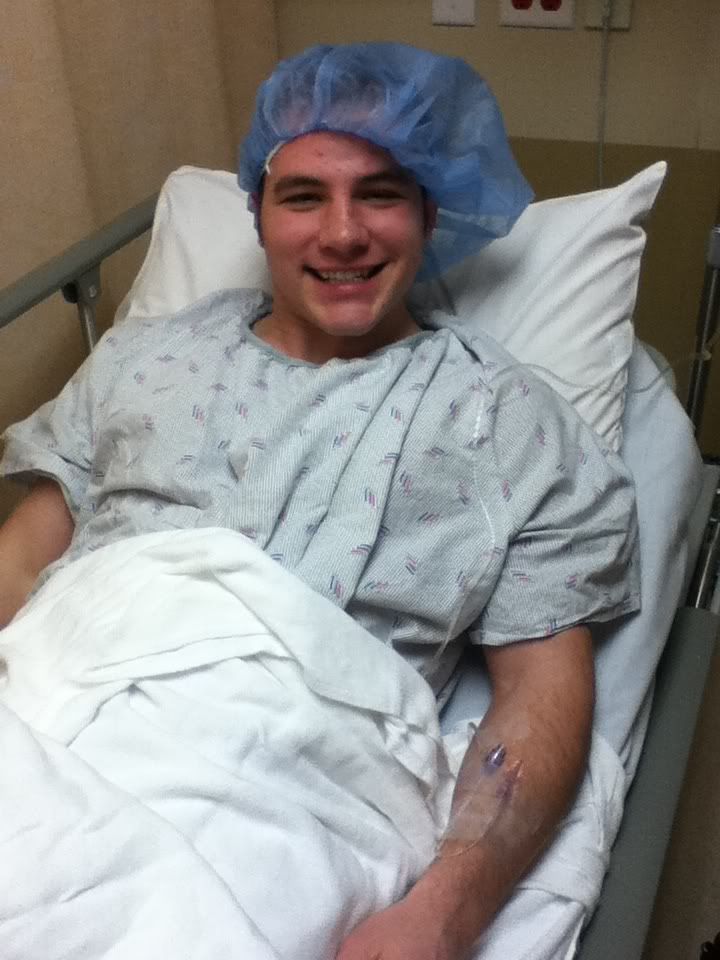 At about 2:30...
Right before he was supposed to go into surgery.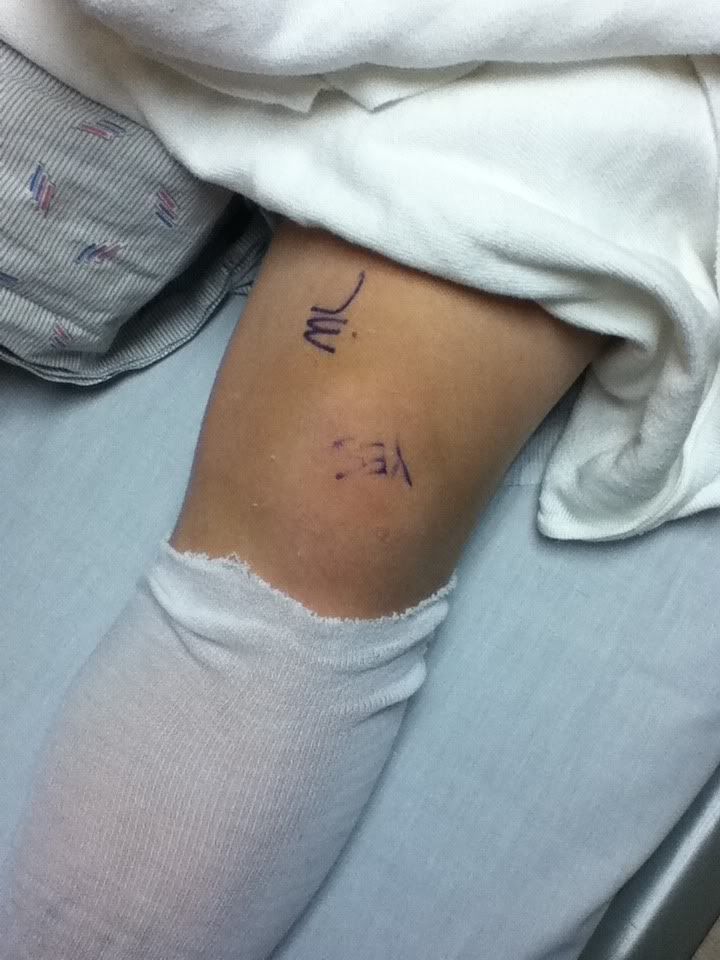 He had to write yes on his knee so they didn't do the wrong one on accident
Well, 3 came and went. We just sat there, I held his hand and we talked or he played games on his phone. Then it was 4. Poor Michael was starving since he had to fast all day and I was pretty hungry myself. The nurse came in wheeling a TV behind her and handed us a list a movies. This was not good news. She said they had just called over from the shoulder surgery his surgeon was working on and it was taking longer than normal and it would be about another hour. Bleck. So we put in Evan Almighty so that hopefully that could help pass the time a little. Well after an hour, there was still no one there to take him away. The rooms on all sides had had people come and go and poor Michael was stuck there starving all day and hooked up to an IV. At about 5:30 a nurse came in to tell us she was going home but that if we needed anything to just push the red call button. We asked her how much longer and she said it sounds like they still have about half an hour but then 5 minutes later she said actually it's gonna be much sooner than that and at ten to 6 they took him away.
They said his surgery would last about 90 minutes and I was planning on staying there the whole time because I was too paranoid that he would get done when I wasn't there but I was starving and Steve took me to dinner at Costa Vida. It was super delicious and I ate way, way too much. We spent about an hour at the restaurant and then went back to the surgery center. The whole building was dark and locked up and there were only about 3 different groups there waiting. One of them left a little while later and then it was just me and Steve and this mom with her 3 young kids. At about 8 o'clock Michael's surgeon came and told me that he was done and it went really well. He said sometimes redo's can take a lot longer and can be harder if the holes that were already drilled were in the wrong spot or too big but he said it lasted about an hour and it went really well. He showed me pictures of before and after his surgery and then said that I would be able to go in and see him in about 10 minutes. In about 35 minutes they told us we could go back.
There was my baby, lying a hospital bed covered in a big blanket that was being filled with hot air. The nurse said that he was shaking really bad after his surgery so that was there to keep him warm. He had an oxygen mask with his eyes closed. He tried to open them as I walked up but the pain meds were keeping him from doing so. After I grabbed his hand he kept telling me it was hurting a lot and I could tell that he was really in pain. I went to get the nurse to give him more medicine. It was hard for me to see him in such pain so I was happy when the pain meds started to kick in. Before the surgery, the anesthesiologist had told us that Michael would be waking up as he was rolling out of the operating room. Boy was he mistaken. Over the next 2 hours, he was pretty out of it. He went in and out of sleep and pain. He said a few funny things. He kept asking me the same questions over and over again every few minutes including: what time is it? how long have I been done? Where'd Steve go? Can I go home now? Should I get dressed? and he also kept telling me that he was trying to open his eyes so he could wake up. After the pain meds had started to kick in I asked if he felt better and he said "I like drugs" haha. I told him that the doctor told him to stay off his leg for 2 weeks and he said "So I can go play football tomorrow?" He kept telling me and Steve thank you for coming and at one point he was waving to Steve and said "Hi" hahaha. He did do some cute things that were more like him. He kept pushing his lips out and I would say what? What do you need and he would just keep his lips out like that and I said a kiss? and he nodded so I'd kiss him and he wouldn't even kiss me back he would just lay there haha. And he wanted me to hug him but I had to lean over the railing on the side of his bed and it was really difficult haha. One time he was sticking his pinky out of the blanket and I said why are you showing me your pinky and he shook the blanket off and he was doing "I love you" with his hand. I must say he is a pretty cute drugged person.
He kept telling the nurse that he was hungry but when she would ask if he was awake enough to eat he would shake his head. She told us that once he thought he could eat then she would give him food and a pill and if that was fine for his stomach then she would let him go home. When he started waking up more he said where is she with my food? This is poor service, she isn't getting a tip. So I went to find her to tell her that he was ready to eat and she gave him the choices of jello, pudding or yogurt. He chose jello and then said, "I was hoping for a cheeseburger." He was pretty funny while eating, I took a video of it in which he asked if I could just teleport him home :)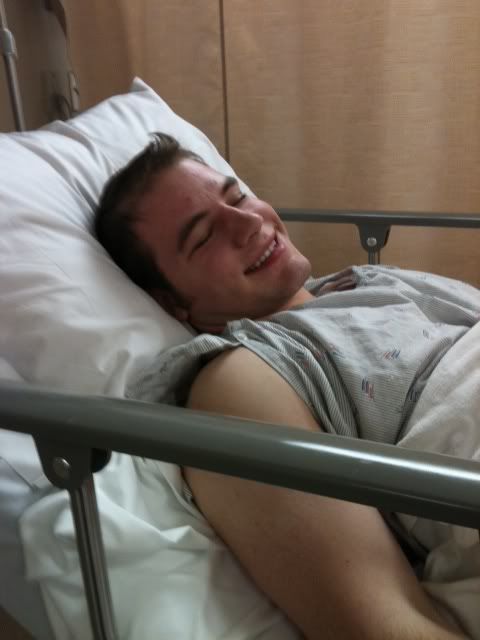 Smiling for his momma. As he was waking up
At about 11:15 we were on our way home. Steve carried him down the stairs and we got him in bed. I had to run to the pharmacy and it killed me to leave him but thankfully it was a pretty quick trip. I finally got into bed at about 1:00. At 2:00 I woke him up to give him some drugs, at 3 he had to use the bathroom and at 6 it was time for more drugs. Let just say that the past couple of nights we didn't sleep much.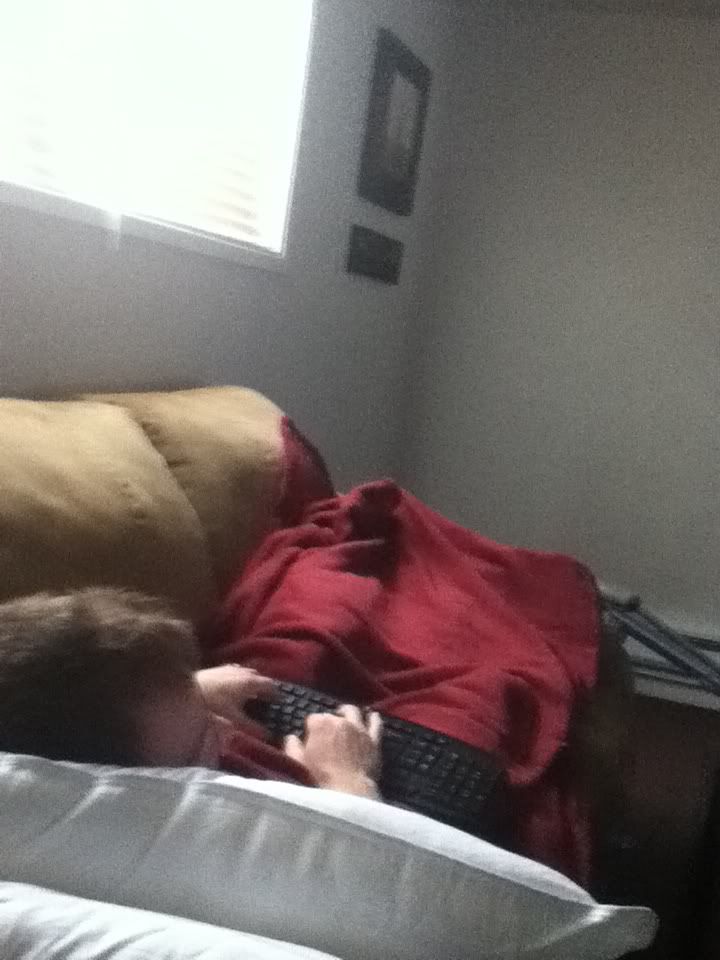 This is where he spends most of his day, when he's not laying in bed or going to the bathroom.
They gave him this fancy little ice machine that is hooked up to this little pouch that goes around his knee and it circulates cold water around his knee to keep down the swelling. It's pretty cool but also very loud.
This weekend has just been one to relax and recover. Michael's meds make him quite dizzy all the time so he sleeps a lot. We have had a lot of support from friends and family checking up on us and making sure we had dinner. He is supposed to stay in the house until Tuesday when they want him in physical therapy. Hopefully he will be able to go to class that day as well. He just can't wait to start recovering and not hurt as much anymore.
We are so grateful for the advances in medicine that we get to take advantage of. We are also grateful for the priesthood and all the blessings that come from it. We are grateful for our friends and family and mostly we are grateful for each other! We don't know how we would get through this if we didn't have each other.